2023 J-Camp Registration Information
Join us in Pullman, July 25-28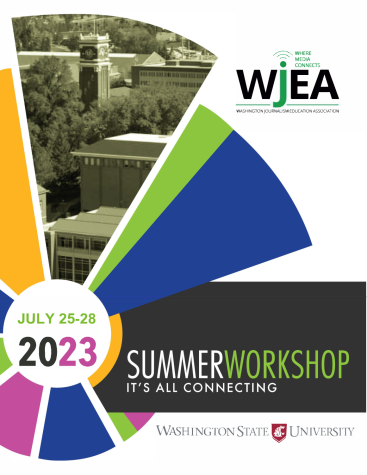 Registration is now open for the 2023 WJEA Summer Workshop on the campus of Washington State University.
THIS YEAR'S REGISTRATION IS ONLINE-ONLY:
STUDENTS (Cost: $475)
ADVISERS (Cost: $600)
SUBMIT A PURCHASE ORDER
Are you new to journalism? An old pro? WJEA's Summer Workshop offers top-notch instruction to prepare you to work within your journalism program. This fast-paced workshop allows attendees the opportunity to become reporters, editors, photographers and designers through a real-world simulation, culminating in a story package created by each team of students. Attendees also get to choose a "major" where they focus on an area of interest. Sessions are taught by seasoned educators, some with industry experience. Both students and advisers will utilize facilities in the Edward R. Murrow College of Communication on the WSU campus.
For complete details, including major sessions and transportation information, download this year's workshop booklet.
APPLY FOR A J-CAMP STUDENT GRANT
Up to five students with financial need will receive grants covering the J-Camp registration fee. Grant does not include optional bus transportation to/from Pullman.
APPLY BY APRIL 15.
What can you expect? Watch the video below.
Leave a Comment