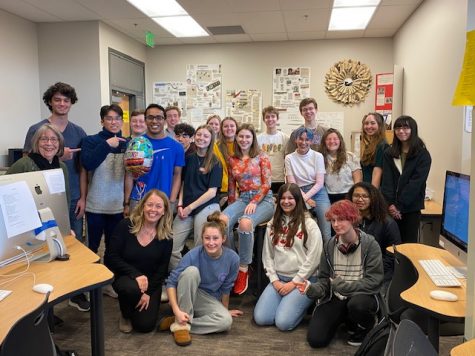 This award recognizes one Washington state senior who has made significant contributions to their journalism program.
ENTRY CRITERIA
Graduating high school senior
Applicant has made significant contributions to the school's student media.
3.0 GPA minimum on a 4.0 scale
Adviser is a WJEA member
Letter of nomination from the student's adviser (no more than three additional letters from teachers, journalism staff peers, administrators or others who can speak to the quality of the student's work.)
Portfolio submitted electronically online and other application materials emailed directly to

[email protected]
Online portfolio must include:
*Self-evaluation of applicant's "journalistic life" (max. 500 words)
*Three to seven work samples showing quality and diversity.
Emailed materials must include:
*Official entry form
*Letter of nomination
*Additional letters (optional)
Preparing your portfolio
Your portfolio should be submitted online. You may use any online tool to create and share your portfolio. JEA provides a nice YouTube tutorial listing some options HERE. Important note: The JEA video refers specifically to the Journalist of the Year portfolio. WJEA's Lu Flannery Outstanding Journalist portfolio carries somewhat different content requirements. If you are also applying for WJEA's Journalist of the Year award, make sure the portfolios are separate and the links to each are clear and submitted separately.
Some ideas to help you with the self-evaluation (max 500 words): How do you feel about journalism? How did you get started in journalism? What have you had to go through to achieve success in journalism? What have you contributed to journalism? What are your journalism plans for the future?
Samples of work should be carefully selected. Provide judges with a cross-section of your best work. Date, name of publication and description of relevance should be visible near sample.
If applicable, work samples should show one or more of the following characteristics. Please group and label samples according to what they represent and why they were chosen:
*Skilled and creative use of media content – writing, production, photography, etc.
*Inquiry and investigative persistence resulting in in-depth study or studies of issues important to the local high school community, high school students in general, or society
*Courageous, responsible handling of controversial issues despite threat or imposition of censorship
*Variety of journalistic experiences handled in a quality manner
*Sustained and commendable work with community media
Award recognition
A panel of local professional journalists and educators evaluate entries.
The scholarship of $2,000 goes to one winner.
The winner will be announced March 11 at the WJEA Awards Banquet.
The winner's name will be published in e(MORE), WJEA's e-newsletter, and on the WJEA Web site, www.wjea.org.
The parent(s)/guardian(s), adviser and principal of the recipient will be notified and a press release will be sent to local media.
Previous recipients:
2020 
Arjun Thomas,
Shorewood HS 2019 
Greta Forslund,
Timberline HS 2018 
Tina Dang,
Cleveland STEM HS 2017 
Ronnie Estoque
, Cleveland STEM HS
2016  
Paxton Merten
, Mountlake Terrace HS 2015  
Bryce Newberry
, Wenatchee HS
2014  
Emma McIntosh
, Shorewood HS 2013  
Abby Zieve
, Roosevelt HS
2012  
Olivia Smith
, Cleveland HS 2011  
Nicole Jennings
,  Mount Vernon HS 2010  
Amelia Furlong
, Mount Vernon HS 2009 no applicants
2008  
Emily Rome
, Charles Wright Academy
2007  
Cassandra Kapp
, Peninsula HS
2006  
Maggie Taylor
, Mt. Vernon HS
2005  
Katie Weeks
, Wapato HS
2004  
Julian Sterbick-Myers
, Wenatchee HS
2003
Katie Baumgartner
, Inglemoor HS