Adviser of the Year
Adviser of the Year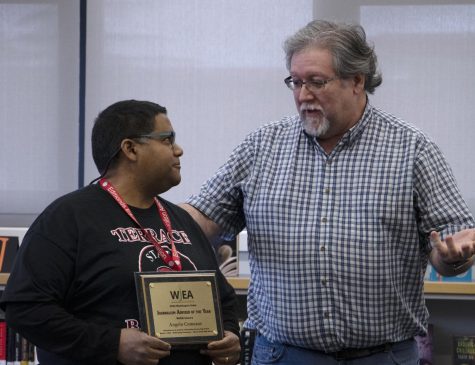 Dear students: Let's be honest. Your journalism adviser does a lot for you. All those hours sacrificed, all that energy and concern for you and your school media. All those times your adviser stuck up for you in the faculty room. Shouldn't you thank your adviser?
Here's a great way to show your appreciation: Nominate your adviser to be the WJEA Journalism Adviser of the Year.
HERE'S WHAT YOU DO
Send a letter or an email to this year's WJEA Journalism Adviser of the Year committee chairperson. You must do this before February 15. Be sure to provide:
*Your full name
*Your home phone number
*Your adviser's full name
*The name of your school
*The name of your publication or broadcast program.
*Tell us about yourself and why you have such a great adviser. Try to give details and examples of things that he or she has done.
That's all you need to do!
WHAT HAPPENS NEXT
If your adviser is selected as a finalist, the committee chairperson will contact you for more information.
Once the winning adviser is chosen, he or she will be surprised this spring either at a school assembly or faculty meeting, where you, your principal, and a representative of WJEA will present your adviser with a plaque and the title "Washington State Journalism Adviser of the Year."
Even if your adviser is not chosen as the winner or a finalist, he or she will be notified of his/her nomination and will receive a copy of your nominating letter.
THE COMMITTEE CHAIRPERSON
The chairperson for this award is the outgoing Adviser of the Year. Send nominating letters via email to [email protected] with "Adviser of the Year" in the subject line.
Or you may use snail mail to WJEA, PO Box 24389, Seattle WA 98124. Questions? Call or email Kathy Schrier, WJEA executive director: 206-979-3234 or [email protected].
THE FINE PRINT
The Washington State Journalism Adviser of the Year is named each year by the Washington Journalism Education Association. Winners must be members of WJEA and cannot already have won the award within the past five years. Advisers are generally nominated by their students, but nominations are also accepted from principals.
---
Previous Advisers of the Year
2023: Micah Richardson, Seattle Prep
2022: Jeanne Hanigan, Bellarmine Prep
2021: Cathy Mebes, College Place HS
2020: Angelo Comeaux, Mountlake Terrace HS
2019: Chris Twombley, Mercer Island HS
2018: Ted Lockery, Nathan Hale HS
2017: Jacob Crouch, Bothell HS
2016: Teresa Scribner, Cleveland HS
2015: Kirsten Vesley, Ingelmoor HS
2014:  Tom Kaup, Auburn HS
2013: Derek Smith, Renton HS
2012: Michael Smith, Ballard HS
2011: Stephanie Keagle, Auburn Mountainview HS
2010: Sandra Coyer, Puyallup HS
2009: Chris Grasseschi, Bishop Blanchet HS
2008: Kay Locey, Gov. JR Rogers HS, Puyallup
2007: Dan Hardebeck, Timberline HS
2006: Vince DeMiero, Mountlake Terrace HS
2005: Logan Aimone, Wenatchee HS
2004: Sharon Alder, Klahowya Secondary School
2003: Boni Etter-Killion, Mt Vernon HS
2002: Gabrielle Duhamel, Kentwood HS
2001: MaryLee Heslop, Decatur HS
2000: Dan Hardebeck, WF West HS
1999: Robin Morris, Richland HS
1998: Pat Ripley, Nathan Hale HS
1997:
1996:
1995: Vince DeMiero, Mountlake Terrace HS
1994: