WJEA Journalist of the Year
WJEA Journalist of the Year
WJEA's Student Journalist of the Year winner will be the Washington state entry in the national Journalism Education Association's "Sister Rita Jeanne High School Journalist of the Year" scholarship competition.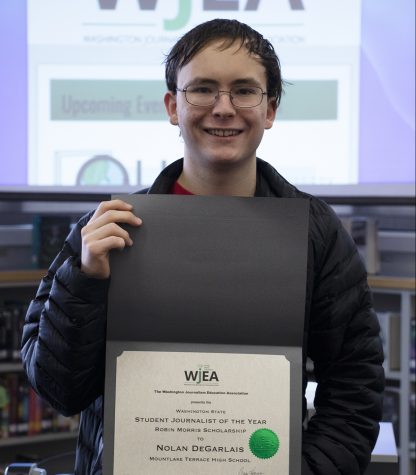 WJEA will enter the Washington state winner's online portfolio and application materials to the national committee for judging. The national winner will be announced at the JEA/NSPA national spring convention in April. Top national award is $3,000 in scholarship funds. Runners up are each awarded $850 scholarships.
The Washington state winner is announced at the WJEA Spring Conference. That winner will receive the Robin Morris Scholarship for $2,000 regardless of whether the state winner earns national recognition.
ENTRY CRITERIA
1. Applicant is a graduating high school senior.
2. Applicant has participated in student media for at least two years.
3. Applicant has earned a 3.0 GPA minimum on a 4.0 scale.
4. Adviser is a current WJEA and JEA member.
5. Applicant has submitted an online portfolio according to JEA guidelines.
REQUIRED MATERIALS
See the links on the right sidebar of the JEA JOY page for further information about how to create an online portfolio and to view samples and judging rubrics. Be sure to watch the JOY Guidelines Video, updated for the 2023 contest.
Important note: If you are also applying for WJEA's Lu Flannery Outstanding Journalist award, make sure the portfolios are separate and the links to each are clear and submitted separately
You also must
email the following documents as attachments
to WJEA J.O.Y Chair, Annie Green, by February 15, 2023, to
[email protected]
:
2. A high school transcript or a counselor's statement including journalism classes taken, grades and current GPA (PDF of 2MB or less)
3. Two photos: An action photo of applicant involved in some aspect of student media and a head/ shoulders shot (JPG of 1MB or less)
4. Three letters of recommendation from those who know the applicant well and understand the impact of the journalistic experience on the student's life (each a PDF of 2MB or less)
5. Current resume (PDF of 2MB or less)
6. Self-analytical essay (follow JEA Journalist of the Year guidelines.)
Previous Award Winners
2022-23: Arushi Sharma, Inglemoor
2021-22:
2020-21:
2019-20: Nolan DeGarlais, Mountlake Terrace HS
2018-19: Annika Prom, Mountlake Terrace HS
2017-18: Haley Keizur, Puyallup HS
2016-17: Stephi Smith, Mountlake Terrace HS
2015-16: Jacoy Willis, Inglemoor HS
2014-15: Nicholas Fiorillo, Mountlake Terrace HS
2013-14: Anna Ferkingstad, Ballard HS
2012-13: Lyra Betels, Yelm HS
2011-12: Sarah Moore, Yelm HS
2010-11: Allie Rickard, Emerald Ridge HS
2009-10: Rebecca Harris, Puyallup HS
2008-09: Nicole Pinto, Peninsula HS
2007-08:
2006-07: Nick Feldman, Wenatchee HS
2005-06: Kelly MacDonald, Wenatchee HS
2004-05: Hilkka Ehlers, Richland HS
2003-04: Dan Talevich, Mount Si HS
2002-03: Ben Truscott, Wenatchee HS
If you were named a WJEA Journalist of the Year prior to 2002, please contact us so that we can update our records.