College Place's Cathy Mebes named Washington Journalism Teacher of the Year
A surprise classroom visit by principal Robert Aguilar brought excitement to media teacher Cathy Mebes' morning "Talon" yearbook class at College Place High School on April 28.  Mebes was named Washington state's 2021 Journalism Adviser of the Year by the Washington Journalism Education Association (WJEA). The annual award goes to a teacher who exemplifies excellence in teaching and in upholding high standards of journalism.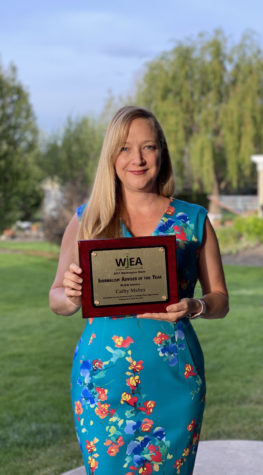 An important aspect of this award is that nominations come from students. The letter nominating Mebes came from junior Veronica Sierra on the Talon staff, who said of her teacher: "She continues to go the extra mile every day for each and every one of her students in order to make us feel welcomed. In her class, she makes it clear that no idea will be frowned upon, and that everyone's opinion matters."
Joining principal Agular virtually via ZOOM were outgoing Journalism Adviser of the Year, Angelo Comeaux, broadcast instructor at Mountlake Terrace High School and WJEA executive director Kathy Schrier. Comeau, who headed the award selection committee, said that Mebes' media program stood out because "hers is a program with consistently high standards and the students clearly respect and respond to that."
Mebes spent years working as a communication professional prior to making the shift to teaching. Originally from Tennessee with a degree in mass communication, she gained experience in a range of positions, including news anchor, public relations spcialist and event manager. After a number of moves due to her husband's military career, Mebes and husband, Mark, settled in Walla Walla, where she became part of the team to launch the Children's Museum of Walla Walla. She was then hired to help with the opening of College Place High School. Of course, when a student media program began, she was the natural choice to take the lead.
"When I started at CPHS in 2014, I was asked to take the Strength Finders quiz and my strengths are Individualization, Empathy, Positivity and Arranger (in that order).  Individualization is the act of seeking out the talents, skills and gifts in others and then reminding them of their potential.  I am blessed to get to do this every day in Media and Yearbook Classes.  I have the pleasure of reminding students of their potential, encouraging them to use their talents as they collaborate and work on projects," Mebes said.