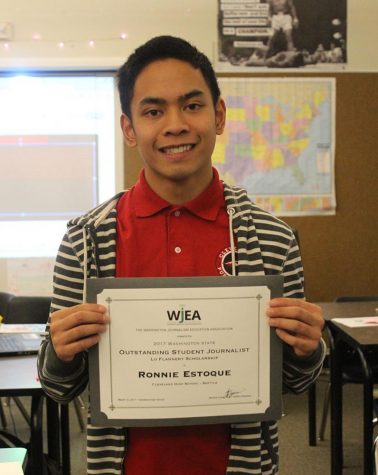 Senior Ronnie Estoque has been named this year's recipient of the Washington Journalism Education Association's Lu Flannery Outstanding Journalist Award.  WJEA Executive Director Kathy Schrier presented the award of a $2,000 scholarship in a surprise visit to the school on March 8.
Estoque is a three-year veteran of the journalism program, and this year serves as Editor-in-Chief of Cleveland Publications, which includes The Journal newspaper and Aquila yearbook.  In addition, he is currently interning as a reporter for the South Seattle Emerald community online newspaper.
CPub adviser Teresa Scribner describes Estoque as "introspective, examining issues from every angle. He is smart, thoughtful and fearless in his writing, tackling every topic from sexual assault to diversity in our school. He isn't afraid to ask the tough questions.
In his application portfolio Estoque included a range of stories in which he covered students dealing with medical traumas and others living the life of a white minority in a culturally diverse school. In a piece originally published by the Education Lab at The Seattle Times, Estoque addressed the effectiveness of the Project-Based Learning curriculum model at Cleveland in preparing students for college-level work. Another story covered efforts to get Ultimate Frisbee recognized as a competitive sport worthy of WIAA recognition.
Science teacher Steve Pratt calls Estoque "the real deal."
"He does journalism because he is passionate about it and he wants to elevate voices and perspectives that don't often see the light of day," Pratt said.
Estoque's goal is to pursue a career journalism. He has already earned a full-ride scholarship to attend Gonzaga University in the fall.