Recognition Plaques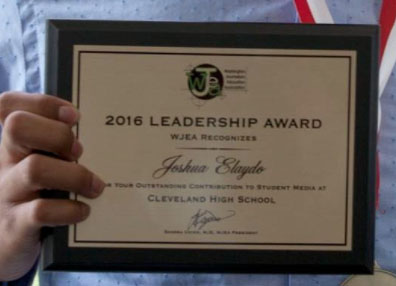 Honor your top student(s) with a WJEA plaque
One of the many benefits of WJEA membership is the opportunity to order a beautiful plaque, engraved with the name of your top graduating senior. Orders are limited to one free plaque per WJEA member, regardless of the number of media advised.
The first 50 members ordering plaques receive one FREE plaque, if ordering by Saturday, May 2, 2017. Orders placed after May 2 are not guaranteed delivery before the end of May. It takes 3-4 weeks from the time the order is placed until delivery. No plaque orders will be accepted after May 30.
Mounted on a 6 X 8 inch wooden backing, the metal plate is engraved with the WJEA logo, and honors your chosen student for their dedication and hard work. If ordering one free plaque, use this form.  Advisers who wish to order additional plaques may do so, but must pay $38 for each added plaque. This includes the cost of postage. Checks payable to WJEA and postmarked by the April 30 deadline. You may also order through our secure online form:
Please, use this online form (if ordering several plaques in addition to the one for free):
No thanks! I just need 
one free plaque, use this form. REQUIRED: Advisers MUST hold current memberships in both WJEA and JEA to qualify for the free plaque offer!
Plaques ordered by the May 2 deadline are mailed before the end of May in time for most end­-of­-the­-year award ceremonies.
Questions? Kathy Schrier [email protected]; 206-­979-­3234