Emerald Award submissions closed for 2018
Is your staff's media organization one of the top in the state?
Hang on for a minute...we're trying to find some more stories you might like.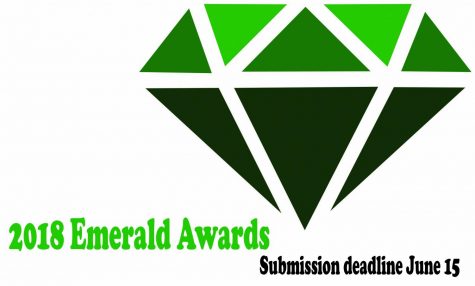 The third-annual Emerald Award contest is open for submissions. Submission deadline is June 15.
WJEA members are encouraged to submit their publications/broadcasts for this award. The Emerald Award is the highest form of distinction given to member publications. Entry fee is $30.
Newspapers, newsmagazines, yearbooks, websites and broadcasts are eligible.
There are two ways to enter:
Submit the following Google Form: https://goo.gl/forms/gjoPyDtvv188wOiF3
Enter the critique contest, where all entries are eligible. Forms located on the critique story page.
Yearbooks MUST send a copy (non-returnable) to Sandra Coyer, 21553 SE 298th Pl, Kent, WA 98042. Yearbooks MUST arrive by the June 15 deadline.
Winners will be announced at J-Day at the University of Washington this September.
Questions, contact Annie Green, Emerald Award chair.