Nathan Hale's Ted Lockery honored with Adviser of the Year
Hang on for a minute...we're trying to find some more stories you might like.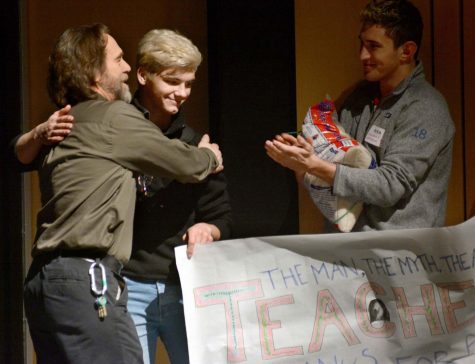 The 2018 WJEA Adviser of the Year is Ted Lockery of the Nathan Hale High School Sentinel in Seattle.
There were many outstanding nominees from journalism programs across the state, but the quantity, enthusiasm and admiration of Ted's advocates made him the clear choice. Ted was nominated by numerous students, alumni and parents from his journalism program at Nathan Hale. He is a very worthy recipient of this honor.
The many reasons that "Teacher Ted" deserves this award are best articulated by the multiple email messages WJEA received nominating him. As current Sentinel Co-Editor-in-Chief Henry M. Graham said:
"The man has put his job on the line for this paper and for our right to free press. When the principal of our school tried to take away student autonomy as journalists and make Ted someone who had the prerogative to censor, he said no. Naturally, administration was peeved and he nearly lost his livelihood over it. Newspaper as its own entity, entirely student run, has immense cultural and educational value, Ted knows that better than anyone.
"
The man has put his job on the line for this paper and for our right to free press."
— Henry M. Graham-Sentinel co-editor
That's a great deal of the reason much of Ted's sacrifices and vitality to the paper are often overlooked. The students are in charge and that's a big responsibility on us. He gives us the freedom to make mistakes, to forge our own path. I think we learn more that way. Not without guidance and proper warnings mind you, but he trusts in us as people."
Sylvie Corwin, the Sentinel's Co-Editor (along with Graham) stated,
"Lockery dedicates hours each month to supervise The Sentinel's layout week, read over every story written for the paper, and cook beans and rice. On press nights, Lockery will stay at school till past midnight finalizing the paper with The Sentinel editors, heating tea water, and washing bean juice off of plates.
Beyond just feeding The Sentinel layout staff, Lockery really cares about his students' well-being. Monthly "Coffee Houses" during lunch give a safe space for students to read or perform their written work by candlelight. Daily jokes, stories about teacher pranks—note the kayak on the ceiling—and student check-ins keep room 2149 fun, humorous, and welcoming."
Molly Nelson describes his mentorship thusly: "Through gentle yet persistent questions, Ted helped us confront our inadequacies as a paper and elevated the level of quality we produced. He never put his foot down and demanded anything of us. His character, his honesty, and his authenticity convinced us to work hard, think carefully, and seek the truth."
Sentinel alumni Stella Ramos, currently studying at Occidental College in Los Angeles, also wrote in support of Teacher Ted: "My most transformative moments were spent with The Sentinel and alongside Ted. He was the most influential person in my life during high school. He taught me patience, integrity, passion, responsibility, and humility. My experience was not ubiquitous to those who work for The Sentinel, Ted has an incredibly profound impact on all those he works with and leads with ease, grace, and incredible intelligence. You won't hear students referring to him as "Mr. Lockery," instead you'll hear students and staff members calling him by his first name or "Teacher Ted." This small push for leveling with his students exemplifies the ways he decides to lead his classroom and newsroom. He allowed the editorial team to make mistakes, experience the feeling of commitment and responsibility, and mediate conflict within the staff. Because of this, we were all able to learn significant life-skills in addition to journalistic practices throughout our time on staff."
Clearly, Ted Lockery is a very deserving recipient of the Adviser of the Year award. His students' appreciation, admiration, and affection for him are clear in their words on his behalf. WJEA is very proud to recognize Ted and honor his outstanding work with the staff of the Nathan Hale Sentinel.