Auburn's adviser Tom Kaup recognized with Dorothy McPhillips award
Hang on for a minute...we're trying to find some more stories you might like.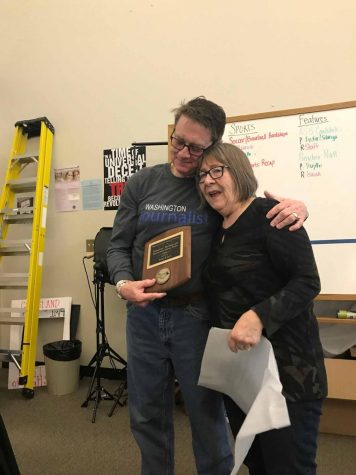 The WJEA Dorothy McPhillips Award is the highest award given by the Washington Journalism Education Association, and honors a member for extraordinary achievement in improving scholastic journalism in our state. This award is not given out annually; rather it is awarded only when it is warranted.
This year, Auburn High School adviser, Tom Kaup, MJE, was honored with the 2018 Dorothy McPhillips Award at the WJEA State Conference at Glacier Peak High School on March 10. Kaup and his students at Auburn High School are credited with inspiring Senator Joe Fain to sponsor the most recent effort to pass Scholastic Press Rights legislation in Washington state, an effort that was successful. This success came after several previous attempts to pass similar bills in our state. The bill currently awaits the signature of Governor Inslee.
Dorothy McPhillips was president of WJEA in the early 80s, then was elected national president of the national Journalism Education Association in 1983. For the next 15 years, McPhillips advanced the status of scholastic journalism nation-wide through her research proving the value of student journalism programs and her outreach to elevate the status of journalism education in our schools. She encouraged states to pass "anti-Hazelwood" legislation after that landmark 1988 Supreme Court decision diminished student autonomy over content in their student media. The first effort to pass anti-Hazelwood legislation in Washington state in 1992 was spearheaded by Dorothy McPhillips.
Long-time First Amendment advocate, Fern Valentine says that Kaup's invitation to Sen. Fain to visit his newsroom was instrumental in setting this legislative push in motion.
"
"Tom Kaup's invitation to him set Senator Fain on the path to final success and Tom kept him constantly aware of the support available from WJEA members,"
— Fern
The Washington Journalism Education Association honors teacher and media adviser Tom Kaup for furthering the cause that Dorothy McPhillips dedicated herself to so tirelessly.