Murrow High School Journalism Competition open for submissions
Hang on for a minute...we're trying to find some more stories you might like.
The Edward R. Murrow College of Communications is holding its free annual awards competition for high school journalism programs in Washington, Idaho, Oregon, Montana and Alaska.
Entries include the following categories: news writing, feature writing, sports writing, photography, best edition, best website and Multimedia (Audio/Video).
All mailed entries must be postmarked by Feb. 15 (early entries encouraged). Electronic or faxed entries must be received by midnight at the end of Feb. 15.
Submissions should be made by the high school journalism adviser or equivalent faculty member on behalf of the student editorial staff.
Limit of one entry per category for each participating high school. For the Best Print Edition category, high schools may submit up to three issues of their student newspaper. Original publish dates for submission must be between Jan. 1, 2017-Dec. 31, 2017. For Best News website category, entrants should submit web address for the homepage of their high school news site with three suggested internal news story or multimedia links. For Multimedia entries, please include URL or email link to the entry as well as entry form.
Each entry must include a completed copy of the entry form. Entry forms must be printed or written legibly. There is no entry fee.
Entries may be submitted by mail, e-mail, or fax. For mailed entries, articles must be presented/mounted to protect them during transit and handling by judges. Presentation might include mounting the entry on a matte board, with the entry form taped to the back, or inserting the entry and the entry form back-to-back in a plastic sleeve. Entries must be original clippings from the published newspaper.
Send mail entries to: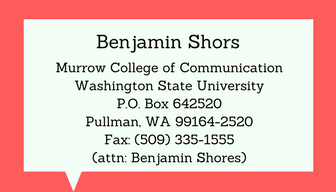 For e-mailed entries, please scan original print version of article(s) in .pdf format. Articles submitted electronically must not be altered or edited in any way.
Entries for Best News website may be e-mailed to: bshors@wsu.edu.
PDF versions of entries for all other categories may be e-mailed to: bshors@wsu.edu
WSU reserves the right to cancel the competition in categories with inadequate or insufficient entries.
For more information see link.