High school students eligible for Northwest Emmy Awards, Feb. 10 deadline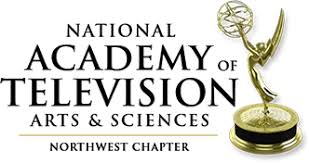 Hang on for a minute...we're trying to find some more stories you might like.
The Northwest Chapter of the National Academy of Television Arts and Sciences is reaching out to encourage submissions to the Scholarship_Student Award info_2017.
The purpose of the NATAS Northwest Student Production Awards is to recognize outstanding student achievements in production. The presentation of the awards is intended to be an incentive for programs to continue to strive for excellence  as well as focusing public attention on outstanding cultural, educational, technological, entertainment, news and informational achievements.
High School Production Awards are judged against a standard of excellence and do not compete against each other. There may be one award, more than one award or no award given in each category.
Categories include General News Assignment, Sports, Sports-Live Event, Short Form Fiction, Short Form Non-Fiction, Long Form Non-Fiction, Music Video, PSA. Additional categories include Animation/Graphics/Special Effects, Audio/Sound, Photographer/Editor and Writer.
The same material may not be entered in more than one programming category. Entries must have been produced in the Northwest Region during the eligibility period of Jan. 1, 2016 to Feb. 10, 2017. The entry deadline is Feb. 10, 2017.
The local coordinator is Megan Erb, formerly with KCTS-9 and now with the Seattle Department of Technology. She says she welcomes questions, should you have any!  Email: meganerb@hotmail.com