Crouch emphasizes importance of teaching students to be smart journalists
August 3, 2017
In his speech to a room of advisers at Western Washington University July 29, Bothell High School adviser and WJEA Adviser of the Year Jacob Crouch stressed the importance of journalism in our country as well as the crucial job of journalism advisers to teach the next generation of media.
"This is such an important time for journalism in our country which makes the work that we do with our students all the more vital," Crouch said.
"
We must continue to encourage them to not only question authority but to seek out truth as well. For it is not enough to simply question authority, one must be able to speak with it too. "
— Jacob Crouch
Quoting George Orwell and Edward R. Murrow, as well as alluding to teacher Taylor Mali and Fahrenheit 451, Crouch described the media landscape during the current presidential administration.
"We are frequently asked by those in power to either ignore or deny that which is plainly visible," Crouch said. "The corrosive effect that this has had on our society can hardly be overstated. Indeed in this era of "alternative facts" we must constantly struggle to maintain our grasp upon actual verifiable truth. In this era of information saturation, amid the fire hose of social media and 24/7 cable news, we must constantly struggle to sift through the noise, the spin, and the outright lies to find the morsels of fact."
It is the skills taught by doing journalism, such as critical thinking and a healthy dose of skepticism, that Crouch says is invaluable moving forward. According to Crouch, teaching students to be savvy media consumers is one of the most important things a journalism adviser can do.
"It has also become clear that the hostile foreign governments have already weaponized American's inability to distinguish between credible news and falsehoods, using this confusion to influence our elections. Obviously this is incredibly dangerous," Crouch said. "This makes the work that we do with our students, teaching them about credible sources and critical consumption of information vital not only to our student media publications but also to the health of our democracy. Skills such as close reading and a healthy skepticism of unverified claims, such as millions of illegal votes, will serve our students and our country well into the future."
Crouch cited the expanse of social media, especially Facebook and Twitter, as impacting and in many ways changing the process through which news gets disseminated as well as consumed. People are able to connect directly with public figures in a way that skips over the "gatekeepers" of the press.
"I must also recognize the amazing opportunities that these digital platforms provide for our students and our publications," Crouch said. "So many of us are already harnessing these tools and importantly, encouraging our students to take the lead in determining how best to use our publication's websites, Facebook pages, and Twitter feeds to best reach our school communities. The term "digital natives" has often been invoked to describe this generation of students and it's very appropriate. While we should absolutely encourage our students to fully explore these new media platforms, the basic tenants of good solid journalism (of credibility, accuracy, thoroughness, and clarity) remain the same and, indeed, have become all the more indispensable in the digital age."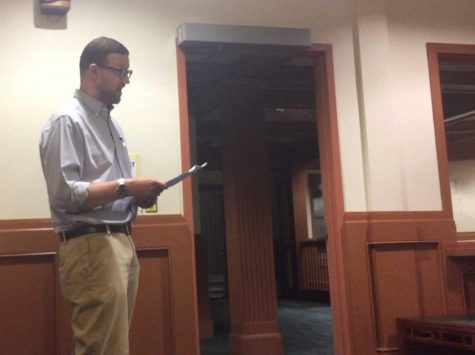 Crouch emphasized the power that the press, including the scholastic press, has on affecting tangible change in the community through examples from both a Pittsburg High School (whose student journalist's investigation into their newly hired principal resulted in what district administrators called "faulty hiring practices" and consequent resignation of the principal) as well as a story closer to home, where a student reporter from the Mercer Island Islander recently published an interview with Defense Secretary James Mattis.
"The skills that we teach including a reliance on verifiable facts, multiple sources, and most important, critical thinking have never been more valuable," Crouch said. "Our student journalists may not necessarily pursue journalism as a career but they will certainly become engaged citizens with the ability to think critically and question the veracity of the information they receive, especially from those with the biggest megaphones, especially from those in positions of power."
Crouch began teaching at Bothell High School in 2006. He became adviser of the Catamount when the previous adviser retired abruptly in the middle of the summer.
"I had only been teaching for about four years at that point," Crouch said. "When the principal asked if I wanted to take over the Catamount, I said, 'sure.'"
Crouch says he was lucky enough to have a fantastic group of students that first year and every year after.