STEPHI SMITH: WJEA JOURNALIST OF THE YEAR (2017)
Hang on for a minute...we're trying to find some more stories you might like.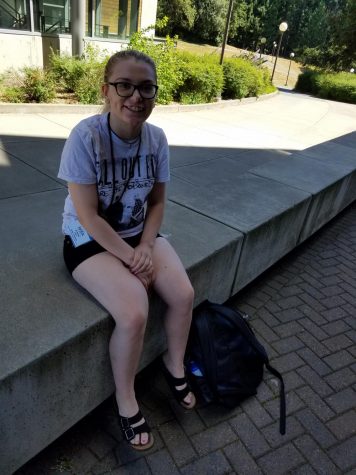 Dave Riggs
Dave Riggs
The name of the workshop was "How to cover a tragedy."
A reporter who had covered the Virginia Tech shooting was leading the workshop. Seated in the audience was a diminutive sophomore with long blonde hair and black thick-rimmed glasses. The workshop was part of the National High School Journalism Convention in Washington, D.C.
As the reporter was telling the story about the massacre, he talked about meeting the grandmother of a student who was shot and killed. Her first words to the reporter: "I've been waiting to tell my granddaughter's story."
That moment left an indelible impression on the girl, who was at the time the crime and police reporter for The Hawkeye, the Mountlake Terrace High School student newspaper.
"I just thought it was the coolest thing ever," the girl said. "I told my editor, 'I just learned that I am going to be a journalist.' (The workshop) helped me learn how journalism can affect people and change someone."
"
There was something about her as a freshman that I could tell there was a little explosion ready to happen"
— Vince DeMiero
It certainly changed her. Stephi Smith has emerged from that experience to become editor-in-chief of The Hawkeye as a senior and was named the 2017 WJEA Journalist of the Year for Washington state. She was one of the student leaders at the WJEA summer camp held July 27-30 at Western Washington University in Bellingham. She is an incoming freshman at the University of Missouri-Columbia in Columbia, Mo., majoring in journalism with a focus on online and print media.
Smith's meteoric rise in the student journalism realm does not come as a surprise to her adviser, Vince DeMiero, who has coached many talented editors in his 29 years at Mountlake Terrace High School. She made a vivid first impression from the get-go as a student in his freshman English class.
"This little mouse, a whisper of a freshman girl…" DeMiero said, shaking his head. "She still talks too quiet. As a freshman you could tell something was there. The questions she would ask and the approach she would take… I said: 'This is going to be a fun four years.' She could've done whatever she wanted to do, but she came in with a passion for journalism. She is someone who is on fire for journalism."
This was not a match-stick flicker. She's full-on Roman candle.
At The Hawkeye, Smith started out helping with production and fundraising — and "writing a couple of easy stories" — as a freshman. From there it was on to crime and police reporter, and copy editor as a sophomore. She took over as news editor as a junior, but was still writing stories. She was named editor-in-chief as a senior, and continued writing stories. In fact, she is so passionate about writing stories that, while all the other seniors on staff had long since succumbed to the death-grip of senioritis, she was still writing stories right up until the last week of her senior year. No senior skip day for this driven journalist.
"There was something about her as a freshman that I could tell there was a little explosion ready to happen," DeMiero said. "She was this dense package of amazing. It was a lot of fun to watch and see her grow."
Officially, the package is 5-foot-0. At least, that's what Smith says. Some might say that's being generous. You may take her for granted due to both her stature and her quiet way. But when she's reporting, there is no doubt who is in charge of the interview.
"She'll be interviewing someone and she doesn't come across as intimidating," DeMiero says, "yet I have watched adults shrink in comparison intellectually. She's not someone to be taken lightly… And she is so persistent."
Persistent? Yes, as in the time she was assigned a one-page story on education, specifically issues relating to school funding, comparing how different schools approach issues, and exploring trends on where students go after college. Ten to 12 interviews, and 3,000 words later, she had cranked out enough material for a four-page section. In addition to sources at her school, she also interviewed experts at the University of Washington and the state Office of Superintendent of Public Instruction. That edition of The Hawkeye won a Best of Show award at a national journalism convention.
Officials at OSPI, not believing that they had spoken over the phone with a high school student, called Mountlake Terrace High School to verify her identity, DeMiero said.
So what really gets this pixie-sized journalist fired up? In a word: crime. Before attending that national convention in D.C., Smith was thinking about a career in law enforcement.
As a sophomore, she wrote a story about a student whose car was stolen out of the school parking lot. As a junior, Smith wrote about a student who was shot and killed by her boyfriend in her home.
"Nobody else wanted to do those stories, but everyone was talking about it," she said.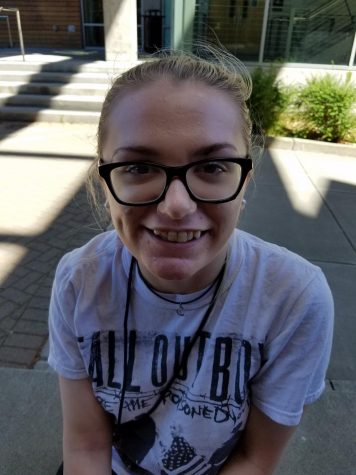 Dave Riggs
And today? She hasn't even started school yet at UMC, but she's already been published in the local weekly newspaper, The Maneater. She's currently working on a piece about the city of Columbia raising parking violation fees. And that's not the first community newspaper she's written for. Several Seattle-area papers have run her stories, as has the Los Angeles Times.
So, looking back, why does she think she won the Washington state Journalist of the Year Award?
She said it was a combination of things, including how hard she worked on her portfolio (she started a year ago, just after her junior year, and was working on it until the day before it was due last February).
"I wanted it to be perfect," she said.
The other key, she said, was the fact that her body of work demonstrated that she is a "fairly well-rounded" journalist, who can work in all media platforms and cover a wide range of stories.
"She has done so much work," DeMiero said. "She is the epitome of leading by example… (She won) because of the depth and breadth of the work."
While Smith looks forward to how her future in journalism will unfold, she also is reflective about her life. She is aware that even the smallest twist of fate could have changed her life forever. Like when she was living in McMinnville, Ore.
"My dad got a new job so we moved to (Seattle)," she said. "They didn't have a journalism program at the high school (in McMinnville). So I think about that a lot. If it wasn't for journalism, what would it be? And I don't know."
Stephi Smith not a journalist? Now that would have been a crime. Even, a tragedy.