2017 Critique Service Now Complete
Get feedback for any of your media and become eligible for the Emerald Awards.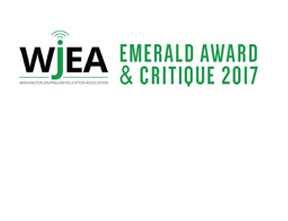 Hang on for a minute...we're trying to find some more stories you might like.
All members of WJEA are eligible to have their student media (newspaper, yearbook, or newsmagazine) critiqued. Broadcast contests are coming in the future. This year's entry date was June 19, which has now passed.
Critiques cost $40, payable to the Washington Journalism Education Association.
WJEA provides a critique of each yearbook, website, newspaper, or newsmagazine submitted, along with honoring those media that meet a high standard of excellence.
Deadline for entries was June 19.
Entries to the critique become eligible for the Emerald Awards, the highest designation presented to student media in our state.
Click the link below to link to the click and pledge payment option.
https://co.clickandpledge.com/sp/d2/default.aspx?wid=109966